Every serious video surveillance company should have a 3D CCTV design tool to do their designs on.
This would reduce the number of dissatisfied clients who have paid for camera systems that are next to useless.
So what would be more likely to close the sale?
Obviously the 3D modelled one.
| | |
| --- | --- |
| | |
|   | With realistic 3D realistic images? |
Following are two software packages that will increase your sales through better presentation.
I personally use both these products in different situations depending on the clients requirements. Each has its own advantages that are covered below.
If you are in sales and want to be sure your design will work.
Available as a 90 day trial or Buy it for USD$199
The IP Video Design tool by JVSG is the best software package for you to improve the visual presentation of your quote without needing to spend too much time in the software. The 3D design interface is easy to learn and give professional results that show your client you have actually designed their CCTV system.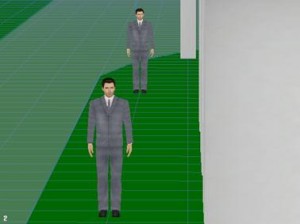 You would be amazed how many quotes are slapped together with no basis to the camera locations.
The key benefit is its ease of use for a novice.
You can quickly design a layout and get an accurate indication of the camera and lens combinations you require.
Model different camera resolutions on the same scene
Change the camera installation height
Draw simple shapes, walls, doors and windows
Place pre-defined 3D objects to show the client what to expect.
EG Various people, vehicles  and other objects
Import any objects you or others have created in Scketchup
Creates a legend of cameras & lenses for each design
This is a powerful tool that any salesman could use.
Available as a 90 day trial or Buy it for USD$199