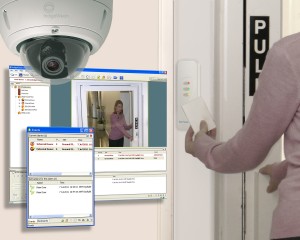 IndigoVision, leading manufacturer of end-to-end IP Video security solutions, releases a new integration module for Software House C•CURE 9000 access control. This supports C•CURE 9000 versions 2.0 and 2.01 and has been tested and certified by Software House for use with SMS 4, IndigoVision's Security Management System platform.
This integration allows events and alarms from C•CURE 9000 systems to be sent across the IP network to 'Control Center', IndigoVision's Video Management Software (VMS). 'Control Center' has advanced alarm management and is the ideal place to consolidate alarms from multiple systems, providing users with a single unified operator interface. Access control alarms can automatically trigger events in 'Control Center', such as moving a PTZ camera to a pre-set position to view the potential incident. The integration module is two-way, which enables alarms and events to be sent from 'Control Center' to C•CURE 9000 systems. For example, an operator could lock/unlock an exit with a click on an interactive building map.
IndigoVision architecture is a truly open solution. Users have freedom to choose third-party ONVIF cameras and Windows-based storage solutions and a Software Developers Kit allows integrators to connect specialist systems. A key part of IndigoVision's open strategy is the development of integration with other security systems, increasingly important for efficient security management and incident response. With operators in large surveillance systems having to monitor hundreds of cameras, the use of alarms from other systems to highlight incidents and events is invaluable.
Alarms can also be triggered via the IP network from discrete inputs connected to digital I/O on IndigoVision's IP cameras and video encoder modules or via an IP Alarm Panel that provides 32 opto-isolated binary inputs and 8 relay outputs. This provides a simple alarm interface for areas such as equipment rooms, lifts and machinery and combined with IndigoVision's 2-way audio capability, for intercoms and help points.
IndigoVision currently has 23 integrations to other manufacturers, in access control, intruder detection, building management, process control and Electronic Point of Sale (EPOS) systems. Oliver Vellacott, IndigoVision CEO, commented, "To deliver end-to-end solutions for our customers, we will continue to integrate with more and more of the world's most popular access control and security systems."