The latest release of IP Video Design Tool by JVSG has hit the market and is still the easiest to use but very powerful CCTV design tool on the market.
It's been over 2 years since we saw the last major version release from JVSG and we have had a lot of discussion about the new features to be released in V8.
With the pre-release of version 8 out for testing, I am really excited to be one of the first to take it for a test run and share the new capabilities with 
Videos to help the new and experienced user
What has JVSG Team included in this release?
One of the major features we have been hanging out for is to be able to define a database of camera models. Up to V7 you would have to create a camera to match the manufacturers specifications by entering the resolution, chip format and various other settings.
Now JVSG Team has given us a pre-build database of several common manufacturers to get started with plus the ability to create, save and share our own models.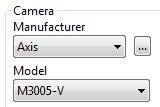 Out the box you get over 2500 7000 predefined camera models included in the software with brads from:
Axis
Bosch
Hikvision
Dahua
Dallmeier
UNV
Panasonic
JVC
Sony
Other new features
Support for multi-sensor cameras
I have not played with this feature to comment on it at this stage, but it allows cameras such as the Dallmeier Panomera range to be modelled. (Homework for me to do)
Ability to create curved surfaces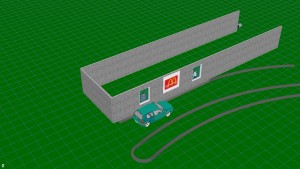 I have always been frustrated when it came to drawing anything with a curve as I had to create a series of short straight sections on different angles to simulate a curve. Now you can do it either as a brick or plaster wall type.
You'll be seeing a lot more of this in my tutorials to create curved medien strips in car parks.
Pixel density preview display
A preview is given of a man's face and a number plate to show you the image quality to expect at the maximum camera distance you have set.
This is a great addition as at a glance you can see if the camera is giving the detail you require and you can demonstrate this to your client to help them understand why they need either a narrower field of view or a higher resolution camera.
Resolution zones in 3D view
You now have the option to show the resolution zones in the 3D window which really helps when you take an aerial view down on a plan and can see where coverage is good or lacking.
Test faces & charts
A set of 9 similarly featured test faces have been added as 3D models to help you determine if the image is providing sufficient detail to tell the 9 people apart.
A new resolution measurement test chart has also been added.
Additional 3D furnishings
Office desks, chairs and filing cabinets have been added to allow your models to be more realistic.
Want to learn more?
Visit Official IP Video System Design Tool site