I was asked to look at a 360 degree camera while in a wholesaler today.
Having given 360 degree cameras bad reviews in the past, I thought a fresh look might be worthwhile
The model was a
Vivotek FE8171V 3.1MP 360
° Surround View Vandal-proof Fisheye Fixed Dome Network Camera. On face value, while using a web browser to view it is was user friendly and gave several display options including a quad screen and 2 screen split of 180 degrees each.
First Impressions
As all 360 degree cameras have a wow factor, I let the salesman do his pitch on me of all the features and display modes before I asked for 2 simple tests
Can it identify a person
I asked one of the sales people to sit in a chair that was about 2 metres from the camera and then electronically zoomed in on them. Unfortunately you still cannot get an image quality suitable to recognise a person let alone identify them.
This has been the number one problem I have experienced with 360 degree cameras in general but given that this is a higher megapixel count than the others I have looked at, I was hoping for a better result. The sales push I see put behind these type of cameras is to use them in public area surveillance so one camera can cover a large open area. Unless you simply want to see if there are people in the scene, they will not do the job for you.

Work in varied light
The other problem I have seen in a 360 degree camera is they don't tend to cope with varied light very well. This camera was mounted inside an office about 10 metres back from the south facing window. There was on light cast on the floor and not an excessively bright day.
Even so, the camera had little contrast of the vertical blinds along the window but the remainder of the office was a reasonable image.
My summary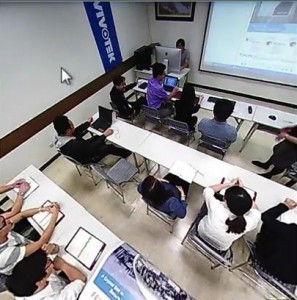 I can see applications such as directly over cash register working but the camera would have to be mounted quite low if you hope to get the face detail and not just a head shot. If you take a close look at the image captured from the above Youtube video from Vivotek's web site (25 seconds in), you can see they have left the area directly central to the camera free of people. I believe this is intentional because you cannot see a face in this position.
For other applications, unless you only want to know if someone is in an area as an overview, I would still put in other cameras for you identify image as they enter the area.
 You should also checkout
How Many Megapixels does a CCTV Design need for Identification