As you may have read, I can be a little harsh – well very harsh really – on products where the market perception of what they can do does not match the reality.
I did this in an earlier article but am coming back to either confirm or dismiss those claims by doing some first hand testing of the FE8171V camera that has been loaned to me by ADI Global.
As I will be testing this in various stages, I have made some videos to show my findings – the first of which is of the un-boxing and first impressions. To make it clear, I have no commercial connection to ADI not this product. However if you like my review – I don't know how it will rate the camera yet -and  are interested in using this product in your CCTV installation, I will provide a link  – once it is setup – to order them. I would appreciate your support!
The first part of the review covers un-boxing the camera and first impressions
What's in the box?
As shown in the video, the camera is supplied with most items you need to get started with you CCTV installation without needing to go to the van.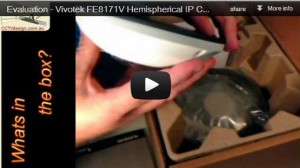 The camera with hemispherical lens
Configuration software
Printed user manual
A surface mounting adaptor
Security screw driver to open it
Cable for audio and auxiliary connections
Power supply with multi country adaptors
Screws and wall plugs
First impressions
The camera feels really strong when you pick it up and is reasonably heavy due to the die cast metal body. This should be able to withstand quite a beating and combined with the four security head screws holding the cover on should be quite vandal resistant. The surface mount adaptor however seems a bit weaker and potentially could be snapped off at the mounting points if a screw driver was wedged under the edge of the mount. However to do this, the camera would be getting some great images of your face if it's not covered.
The cable entry is a potential point of concern for water to ingress when ceiling mounting as it is bevelled in and will allow the water to sit around the cable gland, which is not overly tight. Likewise the auxilary cable is provided with a threaded gland but no rubber washer so will leak unless you add some silicon. Talking from experience – cameras installed under a nice dry shelter like an eve can still have water leak into them.
TIP: Uses some silicon around the cable glands to prevent water ingress
One last observation before moving on to power the camera up – The RJ45 connector for the Ethernet is very close to the dome cover and will require you to almost kink the cable to get it out of the way.
Overall my first impressions are it is a robust camera that is a tidy low profile design, suited to wall or ceiling mounting in both commercial and home video surveillance.