With megapixel surveillance cameras being available in a broad selection of resolutions, how do you know how much is enough? Many salespeople are making huge recommendations as to what to expect from a megapixel camera as an upgrade from a analogue 4CIF camera. Things like 1 camera will replace 5 cameras or even more just are not realistic for most scenes.
Take the following image, which has been provided by The CCTV Blog as an example of 1 camera replacing 16 analogue. While this does give an awesome view, at 8MP the Arecont AV8185 camera provides on this scene an overview to track peoples movement and requires addition cameras to complement it for adequate coverage.

200% zoom from the
8MP 6292 x 1200 pixel
Arecont AV8185

This is the native resolution of the image, showing the artefacts from the compression.
The face is over 100 pixels high so it meets the pixel density for ID requirement but is still not of sufficient quality to truly identify this person. This may be due to the configuration and not a reflection of the cameras capability.
Comparing the commonly available 4:3 and 16:9 formats, we have the 4CIF as a base reference, followed by 720p HD, 1080p HD, 1.3MP, 2MP,5MP,11MP and 16MP. For each model, to make measurements consistent we have defined all cameras as being a 1/3" format using a 4mm lens mounted at 2 metres height. We are highlighting the areas that meet the Australian Standards AS4806 definition of identify and Recognise as illustrated below.
| | |
| --- | --- |
| | |
| Regions by colour | ID & Recognise Regions |
4CIF Resolution
4CIF is the best we have been able to achieve up until about 2007 when megapixel cameras started to hit the commercial market.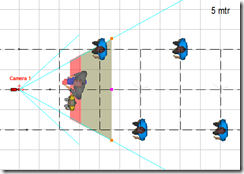 At this resolution we actually struggle to get person identification that meets the standards. A person has to be standing between 1.2 – 1.5 metres from the camera for that perfect shot and the scene is only 1.5 metres wide.
The recognise region is only marginally better being 1.5 – 2.3 metres and 2.3 wide.
Because we want to be able to see under a persons hat if they are wearing one, we have defined 30 degrees as the maximum angle from the horizon, which also restricts the distance.
It is no wonder we get so few convictions on the older CCTV systems if this was the best result we could expect.
720p HD Resolution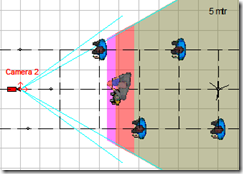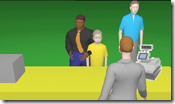 Working at 720p we have a 16:9 aspect ratio which gives for most applications more effective coverage as we have less roof or skyline in the scene to impact on lighting.
We can now identify a person at nearly 3m from the camera and 3.2m wide. The recognise range is out to 6m by 7m wide.
The 16:9 aspect makes covering counters ideal due to the extra width as shown here.
1080p Resolution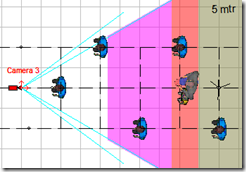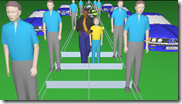 At 1080p we have a similar result as with the 720p due to the wide aspect ratio but with a deeper ID region of 4.5m by 5m wide. The recognise region extends to past 9m by 10m wide.
1.3MP Resolution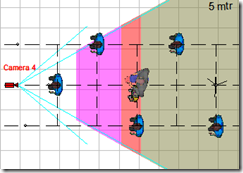 1.3 megapixels gives a similar result to the 720p with the exception of 4:3 aspect ratio so we gain height.
At just over 3m by 3m we get ID quality and recognise at double that.
2MP Resolution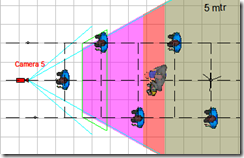 ID is up to 3.7m by 3.7m and as I am sure you are getting to know, recognise is double that.
The 8MP 180 degree image
above  [easyazon-image-link asin="B0044ZRDIO" alt="Av8180 camera (8mp, 180 feet, 6400 x 1200 and 4 8mm lens)" src="http://ecx.images-amazon.com/images/I/21LVeKKK4xL._SL75_.jpg" align="right" width="70″ height="70″]is actually 4x 2MP cameras combined to make one wide image so the same could be achieved with 4 conventional cameras with a better coverage.
3MP Resolution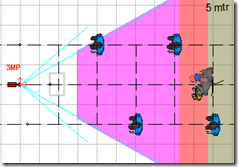 Getting into the bigger resolutions, we start to get some significant changes in pixel density but it should be noted that we are also increasing the storage and bandwidth significantly to get the same frame rate through.
Our ID limit is now at just under 5m
5MP Resolution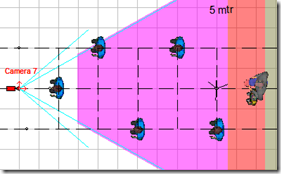 At 5MP many of the cameras cannot produce a full live frame rate due to lack of processing power. You may fine you can only get 5ips, which may not catch the face on the best angle for ID.
The range is now 6.3m from the camera for ID.
11MP Resolution
We are pushing 8.3m for ID now but at a huge bandwidth. We are also using 11MP 35mm CMOS chipsets that are more designed for use in digital still cameras. However the results speak for themself.
16MP Resolution


At 10.8m ID coverage, the 16MP is currently the largest megapixel camera commonly available in the CCTV market but only expect 3ips at this resolution and 65Mbps bandwidth at the best quality.
Having seen these used in public spaces such as airports on a dedicated LAN I can say they are impressive as to what can be achieved and I would still recommend using several other cameras at choke points to get the person coming and leaving.
Summary
The invention of the megapixel video surveillance has definitely improved the quality of images but without the fundamental understanding of pixel density, many sites are really no better off. They have a crisper image but are trying to cover too much in many cases with just one or two cameras of a larger megapixel size but may be better off having an additional camera or 2 at a lower resolution and getting much better camera angles and typically less storage requirements.
Looking back to the original image, I can use the one camera with a 180 degree lens and save some time on the installation or I can put in six 720p cameras spread across the 17 isles.
Looking at the examples below, how would you approach this kind of installation?  Add your comments below.

180 degree camera
Image of the person in the top left of the scene shows the back of the head at a resolution that is of no use.
Individual 720p cameras
The camera alignment does not look as nice but we get an ID quality image of the same person in the far left.