VideoCAD allows you to do your CCTV system design with this 3D modelling software
Starter Edition

is suited for designs that do not require modelling of light sources or pixel density.

The starter version of VideoCAD is ideal for the novice or salesman to prepare quality CCTV system designs and does not require a lot of  computer processing power because of absence of resource-intensive tools.

Key Benifits: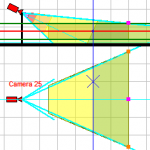 VideoCAD Starter is registered only by personal registration code. This code doesn't depend on computer hardware or a dongle. This code is valid on any computer.
VideoCAD Starter can not be upgraded to more powerful Lite and Professional versions.
With the VideoCAD 7 Lite version you can in addition:
With the VideoCAD 7 Professional version you can in addition:
VideoCAD Alternatives:
IP Video System Design Tool
Developed by JVSG
Pelco 3D camera Design Tool
Developed by Fortem