Version 7 of the IP Video Design Tool has some great enhancements to speed up your CCTV design and greatly improve the quality of your quotes.
Update: Now current version is IP Video System Design Tool 10. http://www.jvsg.com/what-is-new/
I have been advocating the use of the IP video design tool for a long time and use it almost daily in my system design. I recommend you get on to it as you will see a huge increase in the sales conversion rate purely because your presentations look more professional than the others and show the client you know what you are doing.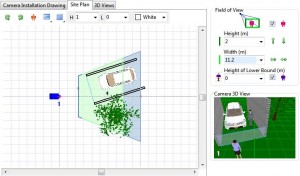 One key features that is new to v7 is the ability to use images created in Sketchup, which includes anything you can find in the 3D warehouse, which is pretty much everything. I was able to pull the full grand stand for the Adelaide oval to produce a professional presentation of what a range of cameras would produce. If you have never played with Sketchup, please take a look at the demo videos as it is amazing and free.
I strongly recommend you keep your eye on IP Video Design Tool by JVSG  if you want to provide serious CCTV quotations and stand out above the pack. In fact why not download the 90 day trial right now!
Maybe you need to see some demonstration videos first.